Pineut winter drinks | carafe | Chai latte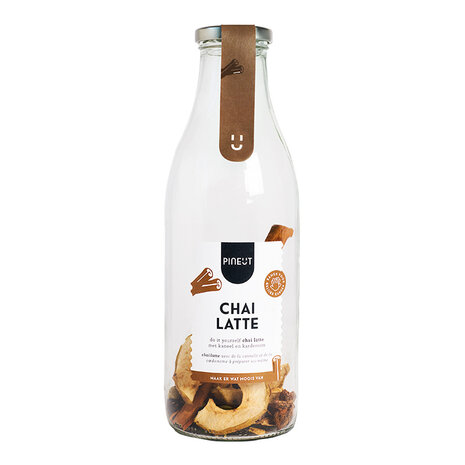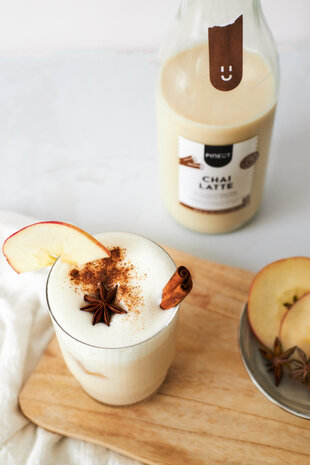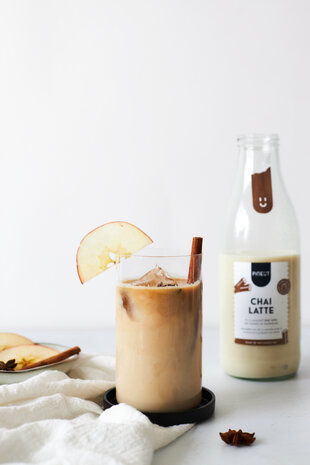 Product description
The name Chai Latte actually leaves little to the imagination. However, Chai Latte is much more than what you would expect. It is a heartwarming blend of tea, milk, and a variety of spices. A balanced mix of cardamom, star anise, ginger, cloves, cinnamon, and mace makes it a flavour sensation that you can enjoy all year round.
Product specifications
Ingredients:

Cinnamon (23%), dried apple (23%), black tea (20%), star anise (17%), cardamom (7%), dried ginger (6%), cloves (3%), mace (3%).

Add yourself:

900 ml (plant-based) milk

Short instruction:

Fill the carafe with the milk and refrigerate for at least 6 hours. Strain through a fine sieve and heat for 10-15 minutes in a saucepan over low heat. Sweeten with honey.

Netto weight:

34 g

Nutritional value per 100g:

energy: 1050 kJ / 251 kcal, fat: 2.8 g, of which saturated fatty acids: 0.6 g, carbohydrates: 42 g, of which sugars: 23 g, protein: 3.6 g, fiber: 7.2 g, salt: 0.03 g

Serving tip:

Make an iced chai latte! After preparation, refrigerate for 2 hours. Fill your glasses with ice cubes and serve!